Over the past few years, there has been a rise in consumer demand for plastic surgery for both medical and cosmetic procedures.For specialized plastic surgeons, incorporating a detailed search engine optimization (SEO) strategy into your company practice will help you generate more online traffic and give your business a competitive edge in a fast growing field. A recent study done by The American Society for Plastic Surgeons estimates there has been a 3% increase in reconstructive procedures performed from 2019 to 2020. The same study found that there was an "11% increase among women who are more interested in cosmetic surgery now" than before 2020. With the increasing popularity of beauty trends, especially across social media platforms, it is likely those numbers will continue to rise as people seek out these services more frequently.
Understanding the Strategy Behind SEO
In this digital age, consumers are using technology more often to seek out the best goods and services their area has to offer, including plastic surgery. Creating a personalized SEO strategy is essential if you want to bring potential patients to your website and through your door.
An SEO strategy is the process of building a site's online presence through the use of practices designed to improve the site's appearance and visibility by optimizing the position of a web page found in organic search results. For example, consumers looking for a local plastic surgeon might use specific keywords or phrases, such as "facelift" and "best plastic surgeon near me." It is important to know and understand the most popular keywords in the industry based on the location of your practice in order to enhance your website's, and its content, overall ranking on search engine results pages (SERPs) like Google.
There are a number of different ways to utilize an SEO strategy to optimize your website's online presence for your plastic surgery practice, including:
Embedding useful backlinks
Inserting popular keywords
Ranking content high in search results
Spreading brand recognition
Mastering your SEO strategy will not only help with the digital marketing of your services, but it will also increase the amount of visitors that go to your website by making it easier for new patients to find your specialized plastic surgery services within the palm of their hands.
How to Use SEO to Your Advantage
After you've decided to create an SEO strategy for your plastic surgery practice, you will want to figure out the best way to implement it on your website in order to set yourself apart from your biggest competitors. With the proper tools, a strong SEO can help you increase your overall online visibility on any SERP and put you ahead of your competition simultaneously, especially for specialized practices. However, it is important to remember these key tips before executing your personalized SEO strategy:
Evaluate Your Website
It would be impossible to optimize your online presence without first knowing your website's strengths and weaknesses. Conducting an SEO audit can reveal the best and worst aspects of your web page. There are many different types of audits to choose from, but the three most popular audits include on-page, off-page, and technical SEOs all focusing on different areas such as page speed, user experience, and removing irrelevant content. It might not seem like these are important to improving your online presence, but they could potentially drive prospective patients away from your cosmetic or reconstructive surgery procedures if blatant problems are left unattended on your website. Examining your site under the microscope of an SEO audit will allow you to locate any performance issues affecting organic search results related to your content that need to be addressed and optimized.
Know Your Local Market
Understanding who your target audience is, compared to your competitors that provide the same or similar cosmetic and reconstructive procedures, will only give you more of an edge when using an SEO strategy to enhance your website. Whether you have one or multiple locations for your plastic surgery practice, you will want to make sure that each one has its own digital footprint and appears at the top of a SERP to enhance the quality of your searches by verifying and registering your practice with Google My Business (GMB). When consumers seek out services, they tend to stay close to home. It is important to identify your top procedures and services that your practice is known for, so they can be found easier in organic search results. Embedding keywords, like "near me" or "tummy tuck," and inserting significant backlinks into your site will help generate more online traffic and promote brand awareness for your practice over your competition. 
Create Relevant Content
Once you've started bringing more users to your website for your plastic surgery practice, you will need to generate diverse content that your audience will want to read. However, it is vital to determine what the appropriate content for your audience is, as there are different platforms of media to choose from, such as blog posts, detailed infographics, informative procedural videos, and FAQs dedicated for specific procedures. Consult your SEO audit to determine what your search data (e.g., what people click on) and site engagement looks like to help you choose and produce the best content for users who come to your website.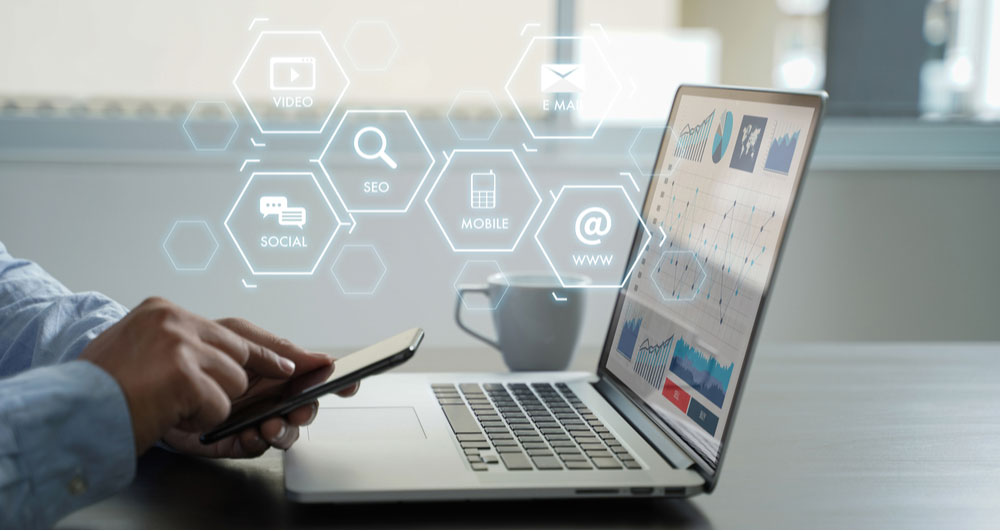 Building Your Personalized SEO Strategy
If you want to enhance your online presence for your plastic surgery practice, then creating your own personalized SEO is the perfect place to start. With a well-rounded SEO in place, your website will be sure to appear at the very top of the most popular organic search results every time.
However, it can be difficult to execute an SEO strategy without the assistance of an experienced third party. Contact us to schedule your consultation today. Our team of seasoned SEO experts will help your website receive the SERP ranking it deserves.